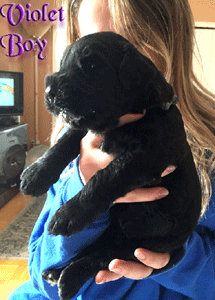 EVA is strong, big and beautiful female. Great movement, perfect bite, big head, very nice body structure, wide chest and shiny black coat.
She is caryring in her blood the most gorgeous representative of our breed with Top show champions from many generations in Canada, US and Russia.
Eva is friendly, calm and loving girl. Perfect mom for her new born puppies.
TRAVIS is huge teddy bear with soft, calm, friendly temperament. All other info and photos you can find on his own page.
That litter was planned long time ago and finally we are happy to see Travis and Eva puppies with us.
PEDIGREE

Puppies play at home, age of 4 weeks Click Here